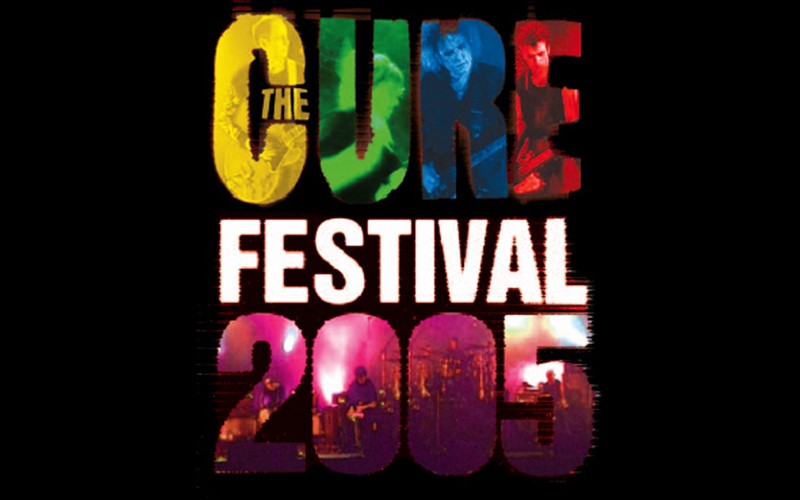 FESTIVAL 2005
05/12/06
OUT LATE NOVEMBER 2006
A NEW LIVE DVD – 'FESTIVAL 2005'
In 2005 a nascent Cure trio of Robert Smith, Simon Gallup and Jason Cooper celebrated the return of former guitarist Porl Thompson with a series of nine eclectic headline festival shows across Europe. The quartets unique blend of passion and power proved to be a thrilling combination, and the summer set a new benchmark for Cure live highs.
Festival 2005 presents a selection of these performances captured by a mix of fans, crew and ?on-the-night-big-screen cameras?.
Edited by Daren Butler and mixed by Keith Uddin in collaboration with Robert Smith, this 30 song DVD is a wonderful reminder of how and why The Cure remain one of the most vibrant bands on the planet.
01. OPEN 02. FASCINATION STREET 03. alt.end 04. THE BLOOD 05. A NIGHT LIKE THIS 06. THE END OF THE WORLD 07. IF ONLY TONIGHT WE COULD SLEEP 08. THE KISS 09. SHAKE DOG SHAKE 10. US OR THEM 11. NEVER ENOUGH 12. THE FIGUREHEAD 13. A STRANGE DAY 14. PUSH 15. JUST LIKE HEAVEN 16. INBETWEEN DAYS 17. FROM THE EDGE OF THE DEEP GREEN SEA 18. THE DROWNING MAN 19. SIGNAL TO NOISE 20. THE BABY SCREAMS 21. ONE HUNDRED YEARS 22. SHIVER AND SHAKE 23. END
encores 24. AT NIGHT 25. M 26. PLAY FOR TODAY 27. A FOREST 28. PLAINSONG 29. DISINTEGRATION 30. FAITH
Filmed in Spain / Belgium / France / Switzerland / Sicily / Hungary / Germany / Greece / Turkey
Directed by Ad Hoc and Seren Dipity
A SUBcure Production
RUNNING TIME 155 minutes
5.1 and dolby stereo sound
Art by Parched Art
All songs published by Fiction Songs