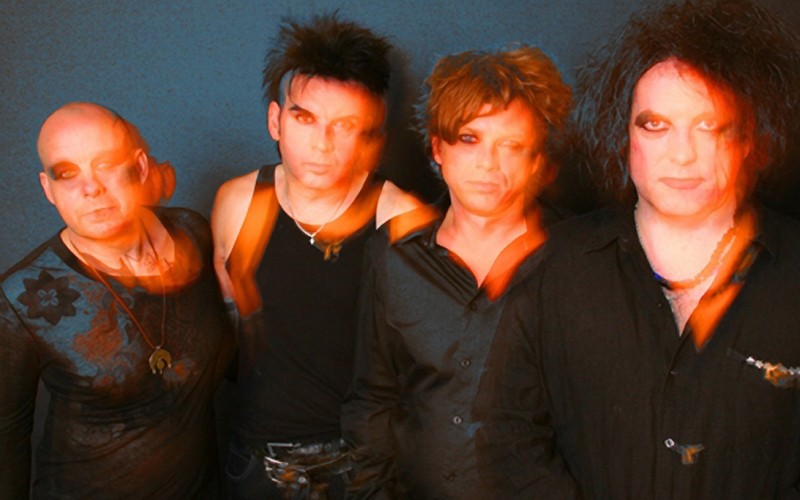 2008 NORTH AMERICAN 4TOUR SHOWS
13/09/07
13TH SEPTEMBER 2007
THE CURE ANNOUNCE RE-SCHEDULED 2008 NORTH AMERICAN 4TOUR SHOWS
AT LAST!
WE ARE VERY HAPPY TO ANNOUNCE THE NEW 2008 DATES OF OUR POSTPONED NORTH AMERICAN 4TOUR.
EIGHTEEN OF THE NINETEEN PREVIOUSLY ANNOUNCED SHOWS HAVE BEEN RE-SCHEDULED IN THE ORIGINAL VENUES, AND ALL 2007 TICKETS WILL BE HONOURED FOR THESE NEW 2008 CONCERTS.
(THE ONLY ONE WE COULDN?T GET SWITCHED WAS SEATTLE? BUT INSTEAD OF NO CURE SHOW AT ALL, WE WILL BE CLOSING THE SASQUATCH! MUSIC FESTIVAL ON SUNDAY 25TH MAY (MEMORIAL DAY WEEKEND) AT THE GORGE AMPHITHEATRE, WHERE WE HAVE BEEN GUARANTEED 150 MINUTES ONSTAGE! ALL TICKETS FOR THE ORIGINALLY SCHEDULED CURE KEY ARENA CONCERT WILL BE HONOURED AT THE GORGE, BUT PLEASE NOTE: ALL TICKETS FOR THE SASQUATCH! FESTIVAL ARE GENERAL ADMISSION, INCLUDING ANY PREVIOUSLY ISSUED CURE KEY ARENA TICKETS).
IT?S ALL HAPPENING SLIGHTLY LATER THAN WE EXPECTED DUE TO ?THE PLAYOFFS? ? A LOT OF THE VENUES WE NEEDED WOULDN?T LET US CONFIRM DATES IN THE MARCH/APRIL PERIOD ? BUT WE UNDERSTAND THEY ALL HAVE TO LIVE IN HOPE!
HOWEVER, AN UNEXPECTED BONUS OF THE NEW ROUTING IS THAT WE HAVE BEEN ABLE TO ADD IN KANSAS CITY, PHOENIX, AUSTIN, FT LAUDERDALE AND CLEVELAND? AND THERE WILL BE MORE DATES TO COME!
WE APOLOGIZE AGAIN FOR THE INCONVENIENCE AND UPSET THE ORIGINAL POSTPONEMENT CAUSED, AND WILL MAKE SURE THAT THE NEW SHOWS ARE MORE THAN WORTH THE WAIT?
SEE YOU ALL SOON,
LOVE ROBERT, SIMON, JASON AND PORL XXXX (THE CURE)
PS
ANYONE WHO WANTS A REFUND ON THEIR 2007 TICKET WILL BE ABLE TO GET ONE IN FULL FROM HIS OR HER POINT OF PURCHASE UNTIL 1ST NOVEMBER 2007.
PPS
ALL TICKET INFO LINKS WILL BE UP AS SOON AS WE HAVE THEM…
>
THE CURE 4TOUR NORTH AMERICA 2008
MAY
09 WASHINGTON DC Patriot Center
10 PHILADELPHIA Wachovia Spectrum
12 BOSTON Agganis Arena
14 MONTREAL Bell Centre
15 TORONTO Air Canada Centre
17 CHICAGO Allstate Arena
19 KANSAS CITY Starlight Theatre ? ADDED SHOW
21 DENVER Red Rocks Amphitheatre
23 SALT LAKE CITY E Center
25 GEORGE WA The Gorge Sasquatch! Festival (in place of Seattle – headlining from 9:30 to midnight)
26 VANCOUVER General Motors Place
29 SANTA BARBARA Santa Barbara Bowl
31 LOS ANGELES Hollywood Bowl
JUNE
03 SAN DIEGO Cox Arena
04 PHOENIX Dodge Theatre ? ADDED SHOW
06 DALLAS American Airlines Center
08 AUSTIN Austin Music Hall ? ADDED SHOW
09 HOUSTON Toyota Center
11 TAMPA St Pete Times Forum
13 FT LAUDERDALE Bank Atlantic Center ? ADDED SHOW
15 ATLANTA Gwinnett Center
16 CHARLOTTE Charlotte Bobcats Arena
18 CLEVELAND (Venue TBD) ? ADDED SHOW
20 NEW YORK CITY Madison Square Garden