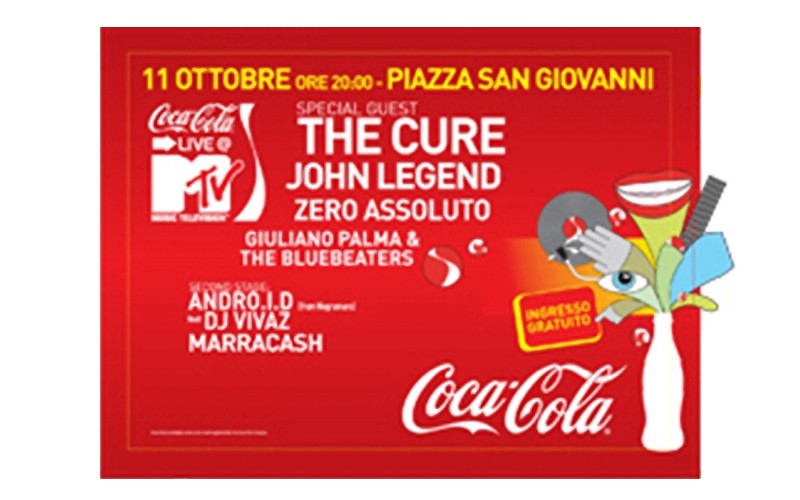 A 4:13 DREAM…
28/09/08
PERFORMING THE NEW ALBUM LIVE FOR AN HOUR ON TV BEFORE IT GETS RELEASED…
CAN IT HAPPEN?
…YES IT CAN!
FREE
OPEN AIR
LIVE IN SOUTHERN EUROPE
DELAYED GLOBAL AIRING…
AND HERE IT IS
VIA THE MTV TRANSALTION DEPARTMENT…
THE CURE
JOHN LEGEND
ZERO ASSOLUTO
GIULIANO PALMA & THE BLUEBEATERS
MARRACASH
ANDRO.I.D FEAT DJ VIVAZ
TO PERFORM AT COCA-COLA LIVE@MTV 2008
Saturday October 11th at 6.30pm
a huge free live concert
In Piazza San Giovanni, Rome
On air live on Mtv Italia
Host: Carolina Di Domenico and Alessandro Cattelan
After five successful editions, Coca-Cola Live@Mtv, the most awaited Italian music event of 2008, comes back with the live music signed by Coca-Cola and Mtv Italia.
Coca-Cola Live@Mtv is the music project that brings the biggest Italian and International artists in Italy?s most beautiful places since 2003. Now, it returns to Rome with an exceptional free live concert, broadcasted live on Mtv Italia, that will embrace thousands people to give them the best live music and an unforgettable show with pop icons such as The Cure, John Legend and many more.
The event will be held in Piazza San Giovanni on Saturday October 11th at 6.30 pm. The historical and suggestive square will become a huge, kaleidoscopic stage full of colors, sounds, and special effects, ready to brighten The Cure?s and other artists live performances. Robert Smith?s band is Headlining with a special exclusive set consisting of their entire new album ?4:13 Dream? and followed by an encore of their big hits. This unique performance will be broadcast worldwide on Mtv.
The one day free festival also features the great American soul singer John Legend and local artists Zero Assoluto, Giuliano Palma & The Bluebeaters, Marracash and dj Andro.i.d. feat dj Vivaz. Legend, with his elegant and old fashion style that puts together the pathos of old school soul with the sharp and modern hip hop and r&b sounds, will present his latest album ?Evolver? including the internationally acclaimed hit single ?Green Light?.
All infos on Coca-Cola Live@Mtv are available on www.mtv.it/cocacolalive and on www.coca-cola.it .
>
ANYWAY
HOW ABOUT ANOTHER DREAM…
THAT ON THE BACK OF MY 9/9/2008 NEWS POST ABOUT THE MTV AWARDS ENOUGH OF YOU CLICKED AND WE MADE THE FINAL CUT?
ANOTHER MONDAY STORY?
HMMM…
STILL RAINING STILL DREAMING…
RSX
>
http://ema.mtv.co.uk/vote/
9/9/2008 10:30:11 AM
HEY! WE COULD BE 'BEST HEADLINER' SAYS MTV! WORTH A VOTE?
IF NOT PERHAPS CAST ONE FOR JONAS BROTHERS OR LIL WAYNE AS 'BEST ACT EVER'?