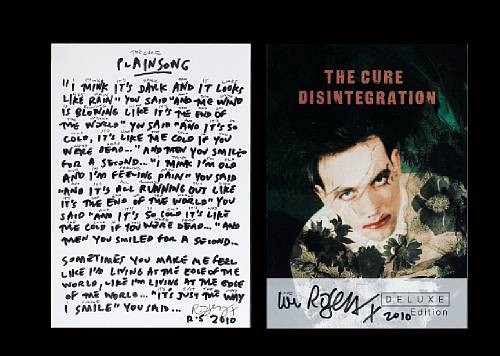 'ART OF THE SONG' AUCTION LAUNCHES
22/11/10
The cream of Britain?s composers and lyricists have written ? by hand ? lines from their best loved songs or music. These unique pieces have been kept under lock and key ahead of the ?art of the song? auction in aid of Teenage Cancer Trust, to be held at Bonhams Knightsbridge, London @2pm on 15 December as part of the Entertainment & Memorabilia auction.
Lot No: 366



The Cure – Robert Smith:

A set of handwritten lyrics, for 'Plainsong' 2010



in black felt pen, with each word re-written above in black ink, framed and mounted together with the 'Disintegration' cover, signed 'R.S.' and twice further signed.