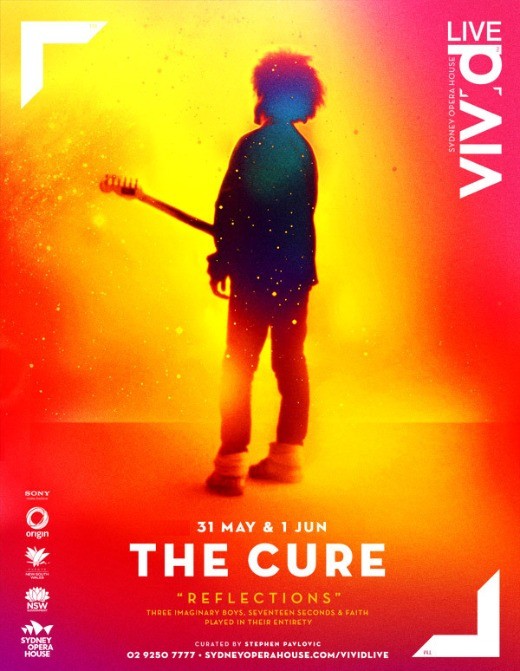 THE CURE REFLECTIONS LIVE AT SYDNEY OPERA HOUSE
05/05/11
THE CURE 'REFLECTION'
added to line up for stephen PAVLOVIC?S VIVID LIVE at Sydney Opera house
Sydney Opera House today announced that the curator of Vivid LIVE, Stephen Pavlovic has secured one of the world?s most enduringly influential bands, The Cure to perform for Vivid LIVE at Sydney Opera House. Appearing onstage with a uniquely evolving line-up of band members past and present, The Cure ?Reflections? will see the band perform their first three albums live, in their entirety, in an extraordinary concert experience exclusively for Vivid LIVE on May 31 and June 1.
While punk was still reverberating through popular culture, The Cure?s unique blend of moody, atmospheric and unforgettable songs pioneered a new era in popular music and marked them forg reatness from the start. Their strong sense of theatricality and unique styling gave birth to entirely new subcultures and new generations continue to discover their signature sound and make it the soundtrack to their lives.
The Cure have toured Australia many times but have never attempted a show such as this on our shores. Hear how they became the voice of generations with three releases that etched them into our consciousness. From the punchy, offbeat, starkly unadorned songs of Three Imaginary Boys, through the increasingly shadowy and quixotic pieces of SeventeenSeconds, to the singular melancholic grandeur of Faith, this is a rare chance to experience the origins of one of popular music?s greatest stories.
Vivid LIVE at Sydney Opera House (May 27? June 5) is a curated music festival and is part of Vivid Sydney (May 27 ? June 13), the city?s annualfestival of light, music and ideas. Following on from Brian Eno (2009) and Lou Reed and Laurie Anderson(2010), Australia?s Stephen ?Pav? Pavlovic of Modular has taken the reigns as curator for this unique event for 2011.
Vivid LIVE curator Stephen Pavlovic says "From my teenage years to the present day, The Cure have always been one of the most inspiring bands I have ever come across. To have the opportunity to include them in the line up is anhonour equal to curating VividLIVE"

The Cure?s Robert Smith says, ?Vivid LIVE is an exceptional event, and we are very excited to be taking part. We have played a lot of memorable shows in Australia ? we first performed here in 1980, and this will be our seventh trip ? but it will be our first time onstage in the Sydney Opera House, and we want to do something unique to mark the occasion. Combining Cure members past and present in a live filmed interpretation of our first three albums feels to me like it should do the trick!?
The Cure join an incredible line up of local and international artists including Spiritualized, Bat for Lashes, Chris Cunningham, The Avalanches, Sonny Rollins, Yo Gabba Gabba!, WU LYF, OFWGKTA and 2manydjs and more.
TheCure ?Reflections?
Three Imaginary Boys (1979)
The Cure Trio: Robert Smith (voice & guitar), Simon Gallup (bass), Jason Cooper (drums)
Seventeen Seconds (1980)
The Cure Quartet: Robert Smith (voice & guitar), Simon Gallup(bass), Jason Cooper (drums), Roger O?Donnell (keys)
Faith (1981)
The Cure Quintent: Robert Smith (voice & guitar), Simon Gallup(bass), Jason Cooper (drums), Roger O?Donnell (keys & percussion), LaurenceTolhurst (keys & percussion)

Performance details:
Vivid LIVE at Sydney Opera House presents
The Cure ?Reflections?
Tuesday 31 May & (repeated) Wednesday 1 June 7pm
180 mins (2 intervals)
Concert Hall, Sydney Opera House
Tickets $109 ? 180 sydneyoperahouse.com / 02 9250 7777
TICKETSON SALE THURSDAY 12 MAY
Sign up to Vivid LIVE E-News for priority access http://vividlive.sydneyoperahouse.com/signup.aspx
Vivid LIVE / Sydney Opera House / May 27 ? June 5 vividlive.sydneyoperahouse.com
2manydjs / ARCHITECTURE IN HELSINKI / THE AVALANCHES DJs / AZARI& III / BAT FOR LASHES / CHRIS CUNNINGHAM / CLUB KOOKY / THE CRYSTAL ARK / THE CURE ?REFLECTIONS?/CUT COPY / DOM / HYPNOTIC BRASSENSEMBLE / LEAVE THEM ALL BEHIND/ OFWGKTA / SUPERBIEN / SNEAKY SUNDAY / SONNY ROLLINS/ SPIRITUALIZED: LADIES AND GENTLEMEN WEARE FLOATING IN SPACE / TAMEIMPALA / TOM KUNTZ / WU LYF / YO GABBA GABBA! / CANYONS / THE SWISSCODISCO / BENI / VAN SHE / FLIGHT FACILITIES / SOFTWAR / BAMBOO MUSIK / CHANGES / BAG RAIDERS