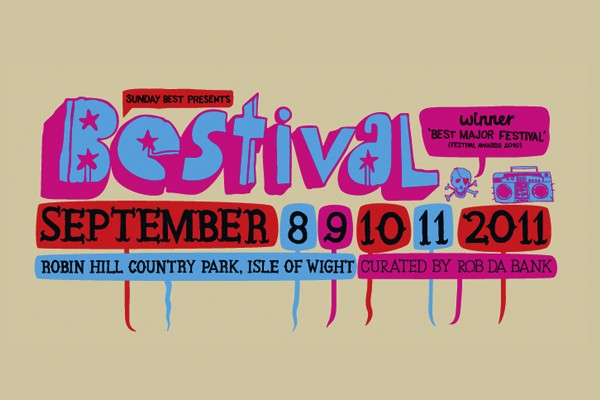 ONLY FOUR WEEKS TO GO 'TIL BESTIVAL!
12/08/11
ONLY FOUR WEEKS TO GO 'TIL BESTIVAL!
BE QUICK IF YOU WANNA NAB ONE OF THE LAST REMAINING TICKETS
PLUS: WIN A CURE GUITAR AT BESTIVAL
AND: WIN A LIFETIME SUPPLY OF BESTIVAL TICKETS IN OUR FANCY DRESS COMP
It's getting close now! With only four weeks to go, we can hardly bear the excitement, the Bestival weekend promises to be utterly amazing! If you want to come and join us on the Isle of Wight, you have to be quick as there are very few tickets remaining!
To get you in the mood, check out these exclusive competitions and the incredible prizes on offer…
WIN A CURE GUITAR AT BESTIVAL


Bestival has teamed up with The Cure and Schecter to offer an exclusively designed guitar to three lucky winners. The guitar of choice for Robert Smith, these beauties have been specially pimped in honour of The Cure?s Bestival 2011 appearance and will be signed by the man himself!

Robert Smith has told us: "The UltraCure limited edition Bestival Curetoon Schecter is the grooviest guitar in the world!"
While Rob da Bank commented: "This guitar is a work of art. Take Robert Smith's favourite guitar, Josie da Bank's ace psychedelic artwork and some fancy printing and this really will be a collectors item. I just wish i could play the guitar!"
And its makers Schecter Guitars say: ?We are proud to partner with The Cure for this amazing event! These UltraCure guitars are adorned with special Curetoon/Bestival art which are destined to be a collector's item. The UltraCure, designed by Robert Smith has been his main guitar for both the stage and studio for the past 5 years!?
Robert Smith will draw three names 'out of a hat' backstage just prior to The Cure's Saturday night headline performance, and the Curetoon Schecter guitars will be shipped to the winners once Bestival 2011 has ended.
To win, simply text ?Cure Guitar? followed by the answer A, B or C to 70099.
What time do The Cure dream?
A) Midnight
B) Noon
C) 4:13
Texts will cost £2, you can enter as many times as you like and best of all, the dosh will be donated to the charity lovecats of Ataxia UK, St. Jude?s Children?s Hospital and St Catherine's on the Isle of Wight.
WIN A LIFETIME SUPPLY OF BESTIVAL TICKETS IN OUR FANCY DRESS COMP
As we know from years gone by, creativity knows no bounds for you lot. So in return for giving us an upfront glimpse of your amazing fancy dress creations you could be in with a chance of winning a lifetime's supply of Bestival tickets!
All you have to do to enter is send us a photo of you dressed up in your Rock Star, Pop Star or Diva get-up to fancydress[at]bestival.net and we?ll post them on our Facebook page in a Rock Stars, Pop Stars and Divas photo album. The Village People will then choose either the most radically rock n roll, the topper-most of the popper-most or deliciously Diva-ish costume from all of the entries on Friday 2nd September and the winners will get their hands on that coveted lifetime?s supply of Bestival tickets, whilst two runners-up will bag a Bestival hoodie each, so make sure you email your pics in for your chance to win! ??
David Hodo, the "Construction Worker" of Village People told us: "Village People dress up in costumes every time we go on stage. It will be fun to judge other people who get dressed up also. We are so looking forward to being judges at the competition for Bestival 2011."
While Bestival head-hippie Rob da Bank says: "Righto folks its time to get your needle and thread out, dust down your wigs and get your brains into gear for the fancy dress theme, Rock Stars, Pop Stars and Divas. Bestival kicked off the whole theming of festivals 8 years ago and i'm really proud that everyone still make the efforts to get escapist and lose themselves in some crazy gear all weekend. This year The Village People are waiting to see your creations in advance and the winner gets a lifetime supply of tickets to Bestival and I?ll be personally checking you've all made the effort for the parade on Saturday afternoon. Don't be shy!"
Remember to keep on checking www.bestival.net for the full line up and all the up to the minute news.
BESTIVAL TICKETS ON SALE NOW
Tickets only:
www.ticketline.co.uk/bestival-tickets // 0844 888 4410
www.ticketmaster.co.uk // 0844 847 1742
www.seetickets.com // 0871 230 0010
www.hmvtickets.co/events/3740 // 0843 221 0100 (plus HMV Box Office Stores)
www.viewtickets.co.uk // 0870 242 1235
Tickets only AND Tickets & Ferry Packages:
www.redfunnel.co.uk/bestival // 0844 844 9988
www.wightlink.co.uk/bestival // 0871 376 1000
Tickets, Coach & Ferry Packages:
www.biggreencoach.co.uk/bestival
Ticket Prices:
Adult Weekend Ticket (inc. camping) – £170
Student Weekend Ticket (inc. camping) – £160
Age 13 to 15 Weekend Ticket (inc. camping) – £85
Age 12 and Under Weekend Ticket (inc. camping) – FREE (but you must obtain a ticket)**
Campervan Tickets: SOLD OUT
NB: Please click here for full ticket information, terms and conditions before purchasing your tickets.
FACEBOOK / TWITTER / BLOG
You can also find us on Facebook at www.facebook.com/bestivalfestival and Twitter @bestival, while @robdabank is the place to find the juiciest info as it happens. And last but not least, our Bestival blog www.bestiblog.net is updated daily with news, videos, free mixtapes and much more… check it!