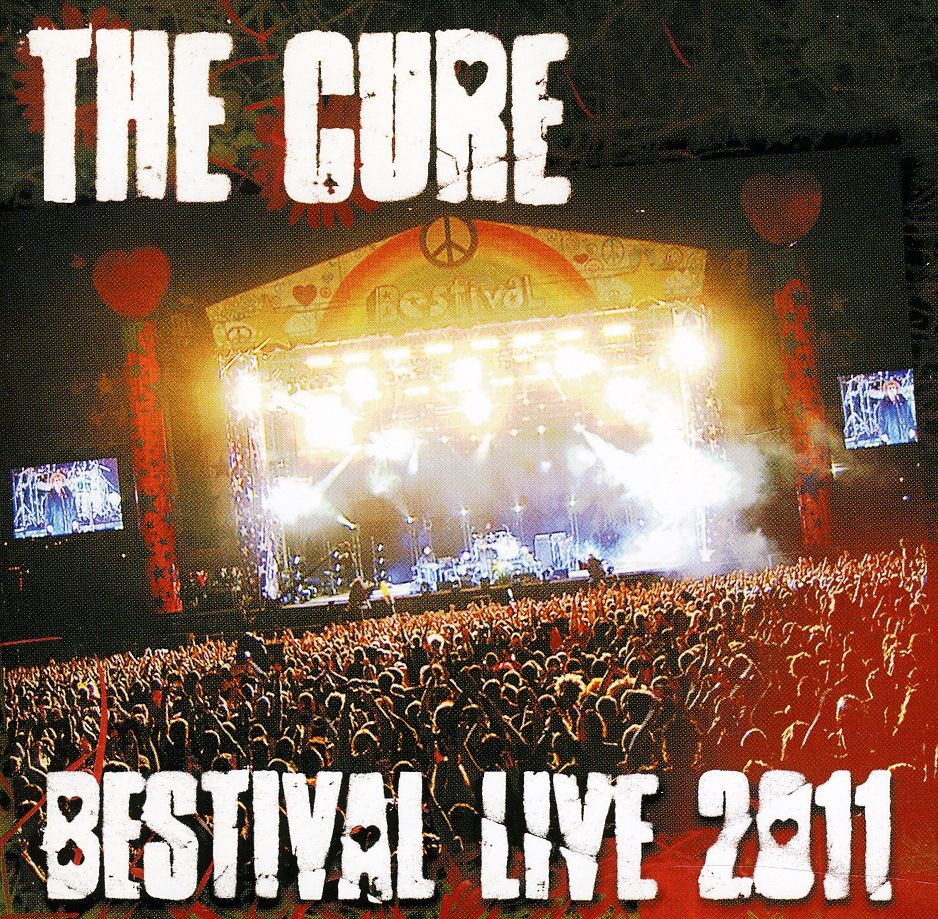 CURE – BESTIVAL LIVE 2011
01/11/11
THE CURE
BESTIVAL LIVE 2011
Double album released on 2CDs / 1 digital download on 5th December 2011 on Sunday Best Recordings in aid of the Isle of Wight Youth Trust
***
"The Cure had pulled off the epitome of the "festival set" akin to Bowie at Glastonbury 2000 or Macca at Glasto '04, and every bit as legendary." – The Guardian
"Set of the weekend." – NME.com
"Joyous – truly the stuff of rock-and-roll icons." The Telegraph
"Robert Smith reminding all of his ability to craft those great three minute love songs." – Clash Magazine
***
Sunday Best Recordings are thrilled to announce the 5th December 2011 release of The Cure : Bestival Live 2011, a live recording of the iconic bands fabulous two and a half hour set performed at this year's Bestival.
The double album, which is split over two CDs and also available as a digital download is made up of thirty-two Cure classics, including "The Lovecats", "The Caterpillar", "Close To Me", "Friday I'm In Love", "Lullaby", "The Hungry Ghost", "The End Of The World", "Just Like Heaven", "Grinding Halt", "Jumping Someone Else's Train" and "Boys Don't Cry".
Robert Smith of The Cure says; "We had such a great time in the Isle of Wight at Bestival that we wanted to release this show as a way of thanking fans and islanders alike. Bestival IS the best!"
Rob da Bank, founder of Bestival says; "Since I was 15 and backcombing my hair, donning my sisters eyeliner and singing the lyrics to 'A Forest' into my hairbrush I've had an unhealthy fascination with The Cure. To say it reached its peak at Bestival 2011 is an understatement, as after seven years of pestering I not only landed The Cure to headline Bestival, but now appear to be putting out one of their live records on my own record label. How strange! For any of the 50,000 who were at Bestival and saw all or some of the two and a half hour set, this live album will transport you back. For fans of The Cure who didn't make it I know this will be a legendary addition to your Cure collection!"
All profits from the sale of this album will go to the Isle of Wight Youth Trust (Reg Charity No: 1087163). The Isle of Wight Youth Trust is a charitable, independent and professional organisation offering counseling, advice, information and support services to young people aged 25 and under on the Isle of Wight (the home of Bestival) and, in some cases, their parents or carers. The Youth Trust has been working on the Isle of Wight for 27 years and has made a positive input to the wellbeing of people locally. www.iowyouthtrust.co.uk
Eileen Monks, Director of The Isle of Wight Youth Trust, says; "What wonderful news that The Cure should choose us, an Island charity of 27 years, to benefit in this way. This came completely out of the blue and at a time when it is becoming extra hard to raise funds to support our work with children and young people on the Island, further cementing our association with young people in their many interests and aspects of their lives. We would like to thank Rob da Bank for his continuing support."
THE CURE : BESTIVAL LIVE 2011 will be released on Sunday Best Recordings on 5th December 2011
***
THE CURE : BESTIVAL LIVE 2011 TRACKLISTING
CD1:
01. Plainsong
02. Open
03. Fascination Street
04. A Night Like This
05. The End Of The World
06. Lovesong
07. Just Like Heaven
08. The Only One
09. The Walk
10. Push
11. Friday I'm In Love
12. Inbetween Days
13. Play For Today
14. A Forest
15. Primary
16. Shake Dog Shake
CD2:
01. The Hungry Ghost
02. One Hundred Years
03. End
04. Disintegration
Encore1:
05. Lullaby
06. The Lovecats
07. The Caterpillar
08. Close To Me
09. Hot Hot Hot!!!
10. Let's Go To Bed
11. Why Can't I Be You?
Encore 2:
12. Boys Don't Cry
13. Jumping Someone Else's Train
14. Grinding Halt
15. 10:15 Saturday Night
16. Killing Another