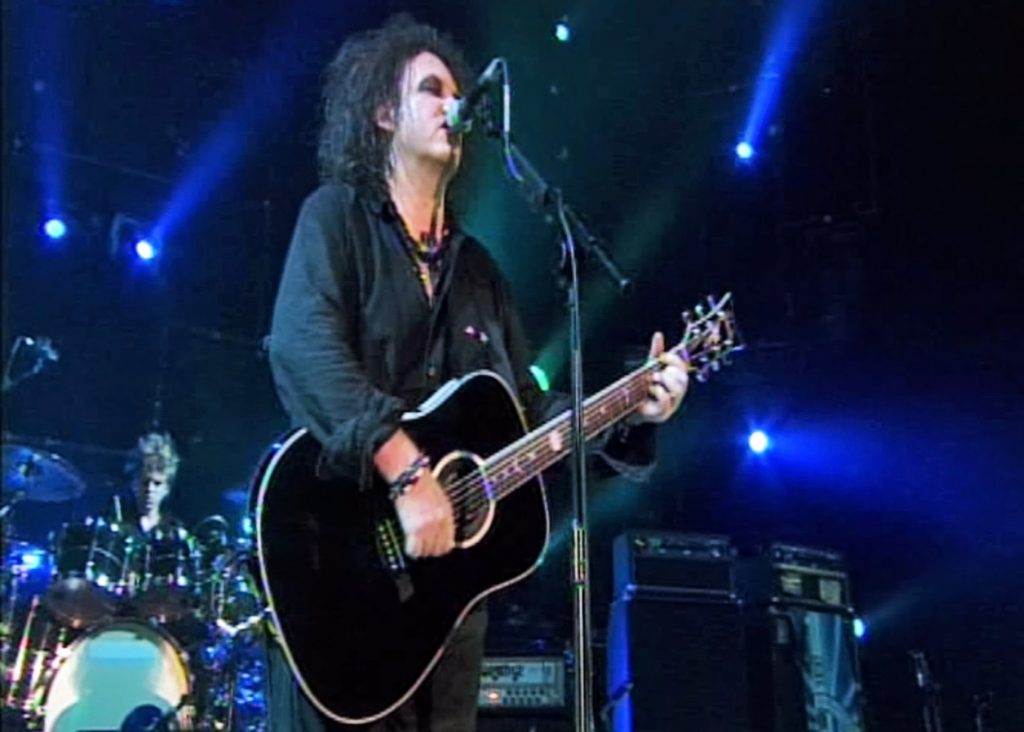 RS-1000 GUITAR AUCTION
03/12/13
WOW! THANKS! RSX
Lot 403 THE CURE: A SCHECTER RS 1000 GUITAR IN BLACK GLOSS FINISH OWNED AND PLAYED BY ROBERT SMITH, Sold for £27,500 inc. premium
Robert has personally donated a signed World Tour guitar for UK charity Amaze to auction.
(NB. PICTURE ABOVE IS FROM PARIS 2008: 'A BOY I NEVER KNEW' BEING PLAYED ON THE GUITAR FOR AUCTION… ALBEIT I HAVE SINCE MODIFIED IT WITH A SILVER PEN!!! RSX)
The beautiful black Schecter 'Robert Smith RS-1000' acoustic guitar is inlaid with star and moon motifs, and includes hand written chords and lyrics for the song 'A Boy I Never Knew'.
In a personal letter of provenance to accompany the guitar Robert has written:
The Cure played the (as yet unreleased) song 'A Boy I Never Knew' around 20 times… and this Schecter RS-1000 is the guitar I used for every one of those performances… Amaze – It's a very special instrument for a for a very special charity!
Amaze, a charity that supports families with disabled children, is very excited to auction the guitar on the 18th of December at the Bonham's Pre-Christmas Entertainment Memorabilia sale starting at 12.00pm in Knightsbrigde London.
The guitar is available to view online now. Bids can be registered and the sale watched live: http://www.bonhams.com/auctions/20772/lot/403/.
To register a bid contact the Bids Department:
Bids (UK) Tel: +44 20 7447 7448 Fax: +44 20 7447 7401 bids@bonhams.com
"Amaze gives information, advice and support to parents of children with special needs and disabilities in Brighton & Hove. We work to empower parents to expect and get the best for their children. We support families through the emotional and practical demands of getting the right services in finance, education, health care and leisure.

There is unprecedented demand on all Amaze services and less funding to provide them. This special guitar will raise vital funds and help us to continue to provide a range of free and much needed support to parent carers."