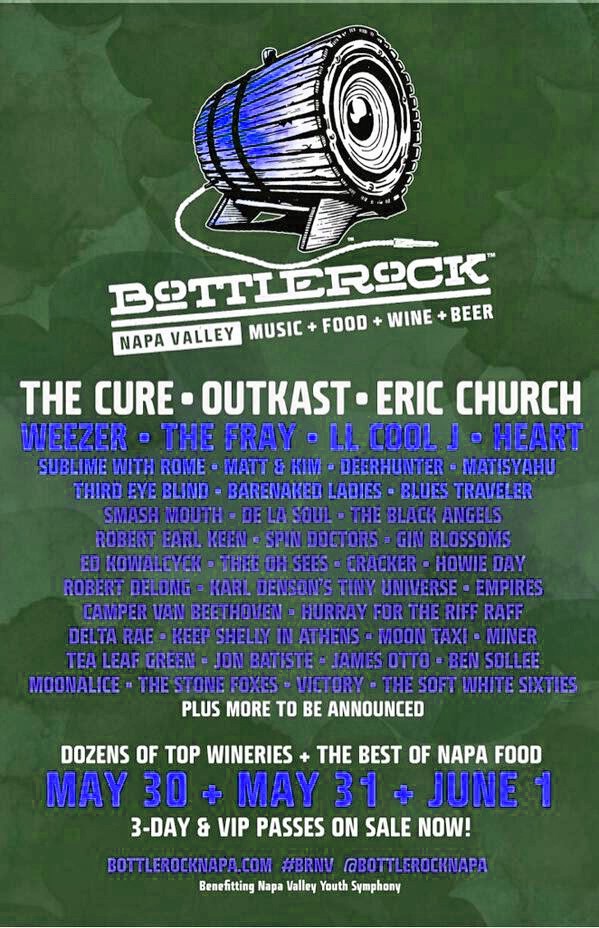 BOTTLEROCK NAPA VALLEY ANNOUNCES 2014 LINE UP
14/03/14
BOTTLEROCK NAPA VALLEY ANNOUNCES 2014 LINE UP

THE CURE, OUTKAST & ERIC CHURCH TO HEADLINE

TICKETS ON SALE MONDAY, MARCH 17 AT 10AM PST
NAPA, Calif: Today, local festival promoter, Latitude 38 Entertainment (L38) officially announced the 2014 BottleRock Napa Valley music lineup. The festival is scheduled for Friday, May 30 thru Sunday, June 1, 2014 in the heart of Napa featuring more than 40 artists over the three day music, wine and food extravaganza, benefitting the Napa Valley Youth Symphony.
"Internationally celebrated artists The Cure, Outkast and Eric Church will headline BottleRock Napa Valley this spring creating an incredibly diverse lineup of talent that puts Napa Valley on the world-wide music map," said David Graham of L38.
A little more on our headliners: Kicking off the 2014 headlining acts on Friday night is one of the most popular alternative rock bands on the planet, The Cure. Their BottleRock performance is currently the only US tour appearance on the books. Atlanta-based, Outkast are celebrating their 20th anniversary in the business and recently announced a reunion tour after an eight (8) year hiatus. Critically acclaimed country superstar Eric Church, has just landed the number one spot on the Billboard charts with his new release, The Outsiders.
"With a mixture of rock, alternative, hip-hop, bluegrass, country, urban and more plus the incredible food and wine partners that make BottleRock so unique, we've got something for everyone," added Graham. "As we continue to announce artists, you will see many well-known names along with a full lineup of homegrown Bay Area and California-bred local artists. BottleRock is cultivating local talent while giving them a platform to a national audience."