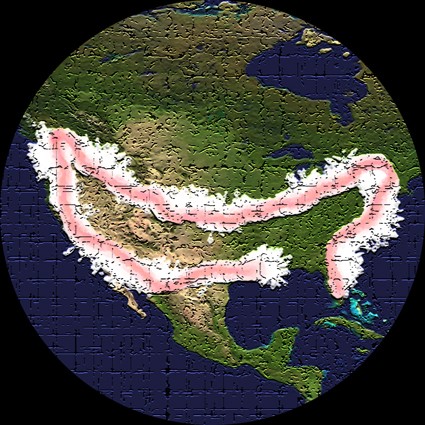 THE CURE ANNOUNCE 2016 NORTH AMERICAN TOUR
10/11/15
The Cure will be playing 33 shows in 26 North America cities next Spring, their first major tour of the continent since 2008.

During the past 7 years the band has performed a number of 'Reflections' shows in LA and NYC, and headlined most of the major festivals, including Coachella, Lollapalooza, Bottlerock, Osheaga, two Austin City Limits, three Riots and a Voodoo…
"THE CURE TOUR 2016" will present Robert Smith (voice/guitar), Simon Gallup (bass), Jason Cooper (drums), Roger O'Donnell (keys) and Reeves Gabrels (guitar) as they explore 37 years of Cure songs, mixing hits, rarities, favourites and as yet unreleased tracks in a brand new stage production that promises to be the 'must see' show of the year!
Support on all dates will be The Twilight Sad.

MAY
10th
New Orleans, LA
UNO Lakefront Arena
Link: http://www.ticketmaster.com/event/1B004F73C40C7789
LESS THAN 300 TICKETS LEFT

11th New Orleans, LA UNO Lakefront Arena – SOLD OUT

13th
Austin, TX
Frank Erwin Center
Link: http://bit.ly/1NLs0Bx
LESS THAN 300 TICKETS LEFT

14th Houston, TX Toyota Center – SOLD OUT

15th
Dallas, TX
American Airlines Center
Link: http://bit.ly/1N1rddW
LESS THAN 300 TICKETS LEFT

17th
El Paso, TX
Don Haskins Center
Link: http://bit.ly/1WMZWn6
LESS THAN 1,000 TICKETS LEFT

19th Las Vegas, NV The Chelsea Theater at The Cosmopolitan – SOLD OUT

20th
Chula Vista, CA
Sleep Train Amphitheater
Link: http://livemu.sc/1GVWAar
LESS THAN 1,000 TICKETS LEFT

22nd Los Angeles The Hollywood Bowl – SOLD OUT

23rd Los Angeles The Hollywood Bowl – SOLD OUT

24th Los Angeles The Hollywood Bowl – SOLD OUT

26th
Mountain View, CA
Shoreline Amphitheatre
Link: http://livemu.sc/1RORmOf
LESS THAN 1,000 TICKETS LEFT

28th
Portland, OR
Sunlight Supply Amphitheater
Link: http://www.ticketmaster.com/event/0F005075B1663F52

29th
Sasquatch!, Quincy, WA
Link: http://concerts.livenation.com/event/0F004F65D8A91C7F
THE CURE ARE SCHEDULED TO PLAY FROM 11PM TO 1:30AM (CURFEW)

31st Vancouver, BC Festival Lawn at Deer Lake Park – SOLD OUT

JUNE
2nd Boise, ID Century Link Arena – SOLD OUT

3rd
Salt Lake City, UT
Maverik Center
Link: http://smithstix.com/music/all-music/event/17757/the-cure
LESS THAN 300 TICKETS LEFT

5th
Denver, CO
Fiddler's Green Amphitheatre
On Sale: 11/14 @10a MT
Link: http://bit.ly/1OESPsE
LESS THAN 1,000 TICKETS LEFT

7th
St. Paul, MN?Xcel Energy Center
Link: http://www.ticketmaster.com/the-cure-saint-paul-minnesota-06-07-2016/event/06005063D953B175
LESS THAN 300 TICKETS LEFT

8th Kansas City, MO Starlight Theatre – SOLD OUT

10th Chicago, Il U.I.C Pavilion – SOLD OUT

11th Chicago, Il U.I.C Pavilion – SOLD OUT

12th
Bestival, Woodbine Park, Toronto, ON
Link: https://bestival.frontgatetickets.com/
THE CURE ARE SCHEDULED TO PLAY FROM 8:30PM TO 11PM (CURFEW)

14th
Montreal, QC
Bell Centre
Link: http://bit.ly/21d9Huu
LESS THAN 1,000 TICKETS LEFT

16th Boston, MA Agganis Arena – SOLD OUT

18th NYC, NY Madison Square Garden – SOLD OUT

19th NYC, NY Madison Square Garden – SOLD OUT

20th NYC, NY Madison Square Garden – SOLD OUT

22nd Columbia, MD Merriweather Post Pavilion – SOLD OUT

23rd
Charlotte, NC?PNC Music Pavilion
Link: www.ticketmaster.com/event/0E005053E7B2C782

24th
Atlanta, GA
Aarons Amphitheater Lakewood
Link: http://livemu.sc/1HIrXA4

26th Miami, FL Bayfront Park Amphitheater – SOLD OUT

27th
Miami, FL
Bayfront Park Amphitheater
Link: http://www.ticketmaster.com/event/0D004F69DC6DAC53
LESS THAN 300 TICKETS LEFT