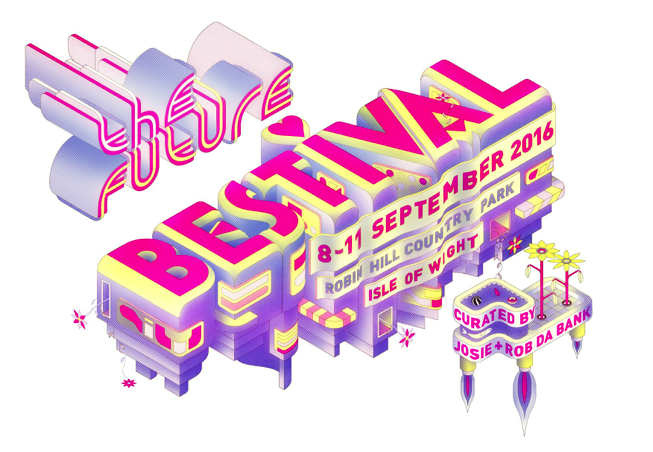 THE CURE HEADLINING BESTIVAL 2016!!!
29/01/16
THE CURE HEADLINING BESTIVAL 2016!!!
SEPTEMBER 8TH-11TH 2016
Bestival, Robin Hill, Isle of Wight, UK
Tickets: www.ticketline.co.uk/bestival-tickets, 0844 888 4410
THE FUTURE IS HERE!
OUR HEADLINERS:
THE CURE
MAJOR LAZER
PLUS, ONE MORE HEADLINER TO BE ANNOUNCED
WITH MUSIC AND DJ SETS FROM:
ANIMAL COLLECTIVE / AURORA / BASTILLE / BEATY HEART
BENJAMIN DAMAGE / BICEP / THE BLACK MADONNA / BODHI PRESENTS ROOTS
CARAVAN PALACE / CRAIG DAVID'S TS5 / DAMIAN 'JR. GONG' MARLEY
DAVID RODIGAN MBE PRESENTS RAM JAM / EATS EVERYTHING / ESKIMO DANCE GHOSTPOET / HOSPITALITY PRESENTS… / HOT CHIP / THE HUMAN LEAGUE JAGWAR MA / KATY B / KITTY, DAISY & LEWIS / KREPT & KONAN / KURUPT FM LOYLE CARNER / MØ / PETITE MELLER / RICHIE HAWTIN / RIDE /
SHY FX'S PARTY ON THE MOON / SKEPTA / SKREAM / SLAMBOREE
TOURIST / WOLF ALICE / YEARS & YEARS
www.Bestival.net / Facebook / Twitter / Instagram / Tumblr
#Bestival16
The omens are good, The Future is happening. With Bestival 2016's Future theme unveiled, we can hurtle headlong into the good times, revealing two massive headliners and an incredible cast of musical pioneers, forward thinking funksters and precognitive pop stars, who will be journeying with us into Bestival's glamourous machine age, where everlasting gobstoppers signal eternal bliss, this September 8-11, disembarking from Robin Hill on the Isle of Wight.
Future swashbuckler Rob da Bank says: "So, here we go again, but this time we're going far… far away… into the future. Prepare yourselves for a Bestival unlike any other with futuristic new stages, and as ever it's a broad church of music from every decade and every genre. Saturday night headliners and one of my favourite bands ever, The Cure, played Bestival five years ago and almost had to be dragged off stage after a three-hour mammoth greatest hits set. Robert Smith popped down last year and we shook hands on it all happening again… bring it on!
"Friday honours go to Major Lazer who have killed it every time they've played, on a bigger stage each time – I remember going to see an exhausted, sweating Diplo after his last main stage show for us and he said 'headline next time?', so here we are!
"It's not all about the headliners, as we know, so I'm super-pleased to have acts as diverse as Hot Chip, Years and Years, Animal Collective and Damian 'Jr Gong' Marley, through to the hottest DJs Kurupt FM and the Black Madonna. This is just the start of the trip – see you in The Future!"
The Cure's Robert Smith said: "We are very very happy to be back at our favourite festival; we can't wait to play a special set to show the future IS what it used to be…"
Major Lazer commented: "We started at Bestival five years ago, and it was one of our favourite shows to date. Feels like home for us… Rugged and real music fans… Since then we finally impacted in England, and we can't wait to do our new show and play all the records for the fans at one of the best festivals in the world!!"
One of Bestival HQs favourites and, frankly, one of the greatest bands of all time, The Cure will headline Saturday night when Bestival heads to The Future. From Three Imaginary Boys in 1979 to their most recent album 4:13 Dream, they've forged their own path, dragging everyone else in their wake. Covering the gamut of emotions that take in the heady pop of Boys Don't Cry and Inbetween Days, the heartbreak of Pictures of You and Bloodflowers, the ferociousness of Give Me It and Fascination Street and the dreaminess of Underneath the Stars and Lovesong, their live shows are legendary, taking the crowd on a beautiful rollercoaster ride. So, we really can't wait to welcome them back to the main stage at Robin Hill this September.
Ensuring that Friday night's main stage behaviour goes off with the requisite bang that will fire us forward into the unknown, we're ecstatic that Major Lazer are making their return in 2016. Their last appearance driving willing Bestivalites to the edge of abandon has passed into Bestival lore, making them one of the most incredible live spectacles we've ever witnessed. Powered by the inimitable ingenuity of Diplo and Jillionaire, Major Lazer's Peace Is The Mission album ruled sound systems throughout 2015, producing one of the year's anthems in Lean On, and launching the band into truly big leagues. Guaranteed to be a mindblower, you don't want to miss our Friday night headliners.
With one more headliner still to announce, we have a litany of musical treats, all presented in alphabetical order for your delectation, that will keep you reaching for the stars all weekend long, including Animal Collective, Aurora, Bastille, Beaty Heart, Benjamin Damage, Bicep, The Black Madonna, Bodhi presents ROOTS, Caravan Palace, Craig David's TS5, Damian "Jr. Gong" Marley, and David Rodigan MBE presents Ram Jam.
Plus, we'll have Eats Everything, Eskimo Dance featuring Big Narstie, Chip, Section Boyz, Newham Generals, P Money, Logan Sama, Elf Kid, Frisco, Maximum, Fekky, & AJ Tracey, Ghostpoet, and Hospitality Presents: Camo & Krooked, London Elektricity, S.P.Y B2B Nu:Tone, Danny Byrd B2B Brookes Brothers, Maduk, Dynamite MC and Wreck.
Kicking off our Future manoeuvres headlining the Big Top on Thursday evening Hot Chip will make a triumphant return, plus there will be performances from The Human League, Jagwar Ma, Katy B, Kitty, Daisy & Lewis, Krept & Konan, Kurupt FM's Champagne Steam Rooms, Loyle Carner, MØ, Petite Meller and techno genius, Richie Hawtin.